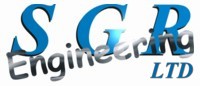 SGR Engineering Ltd
Unit 32C, New Forest Enterprise Centre
Rushington Business Park
Chapel Lane, Totton
Southampton, SO40 9LA

SGR Engineering Ltd Terms & Conditions & Data Protection
Main Terms & Conditions & Acceptable Use Policy.
SGR Engineering Ltd. reserves the right to modify these terms and conditions at any time and without prior notice, within the general 'spirit' of the document, to clarify and/or to react to circumstances.
Last update to these terms : May 2022.
Acceptance of services from SGR Engineering Ltd. constitutes agreement to and acceptance of our policies and conditions outlined below.
Data Protection

SGR Engineering Ltd require certain details from our customers for billing purposes and to provide customer support (Name, company name, address, email address). These details are securely stored electronically, and are used SOLELY for billing our customers. We do not share or sell your personal details. We do not advertise to our customers, nor do we allow your details to be used by anyone else for any purpose.
SGR Engineering Ltd does not handle ANY credit card details. Therefore we neither store nor process any card details.
If any customer wishes to view or update the contact details we hold for them, please email us from the email address we hold for you, and we will update the data accordingly.
If any ex customer wishes to have their contact details removed from our database, please email us from the email address we hold for you, and your data will be removed from our database.

Support

Our web service aims to be available round the clock, 365 days per year (see disclaimers below).
Email services cannot be gauranteed. SGR Engineering is not responsible for the actions of third party mail servers. If email you send is treated as spam, or blocked by a third party, we will always try to help, but please bear with us if the problem lies with a third party.
It is inevitable that customers will require support from time to time, and we aim to support our customers by knowing their requirements and their technical skill level, and providing support to suit.
Support is available during office hours ONLY, and not during staff holidays. All support queries and new orders placed outside such hours will be processed on a first come first served basis during the next available office hours. Outside of office hours, or during company holidays, support may still be available for serious issues, but the response time will be longer, and is not guaranteed.
If you or your business require a round the clock support service, please get in touch with us as we will be able to arrange a package to suit your needs.

Acceptable Use Policy

It should be noted that references to 'the customer' in this section includes ALL users of the SGR Engineering computer network, whether or not they purchased their services direct from SGR Engineering Ltd. Resellers remain responsible for ensuring adherence to these terms by all of their customers.
No customer may use their account or allow their account to be used to host any material which they do not specifically hold the rights to distribute. This includes but is not limited to: Photos, music, videos, software & intellectual property, in whatsoever form it is presented.
No customer may use their account or allow their account to be used to store or link to information pertaining to any illegal activity, whatsoever. This applies to UK Law, as well as to local law where the customer does not fall under the jurisdiction of UK law.
No customer may use their account or allow their account to be used to host any material likely to either intentionally or unintentionally be defamatory or offensive to others.
No customer may intentionally or unintentionally engage in any activity likely to cause harm to the computer network, or disrupt the service to it, or availability of it to other users.

Payments and billing

All renewable services (such as emailname accounts, hosting, and domain registration) are payable in advance. The standard term is once per year. Payment terms for all other services will be as per the quotation for those services.
Any additional fees (eg overuse surcharges) accrued during any calendar month will be invoiced for the following month, whether or not your normal payment schedule is annual.
Non-payment of any charges may result in the suspension of service at our sole discretion.
All accounts have a 7 day "cooling off" period in which time, provided we believe the request is genuine, we may approve a request for cancellation or refund. Any domain name registered for free as a part of the account creation remains the sole property of SGR Engineering Ltd upon refund of hosting charges. Such domains may be bought back at our normal charge rate if required.

Disclaimers

SGR Engineering Ltd. reserves the right, at our sole discretion, to refuse to provide our services to any prospective clients. Furthermore, we reserve the right to block access to our network from any external sources if such action is deemed necessary to prevent disruption of service to our customers.
SGR Engineering Ltd. will not be responsible for any damages your business may suffer as a result of your use of the service or as a result of any malfunction or downtime. SGR Engineering Ltd. make no warranty, expressed or implied, for the services we provide. SGR Engineering Ltd. disclaims any warranty or merchantability or fitness for a particular purpose. This includes loss of data resulting from delays, nondeliveries, wrong delivery, and any and all service interruptions howsoever caused.
© SGR Engineering Ltd. Thursday 30 November 2023